JAIL-MAIL
from Chaplain Tom June 25, 2012
What a glorious, Gospel morning!
Our monthly, short-term, foreign mission trip to Stateville Prison's NRC Unit.
Saturday, June 16th. We met at McDonald's at 8 AM, for a short time of training & prayer. We then checked in at Stateville's Visitors Center, and proceded to the NRC Unit. Over the next couple of hours, we provided a "Gospel Witness" to about 750 inmates, some just a few minutes, others longer.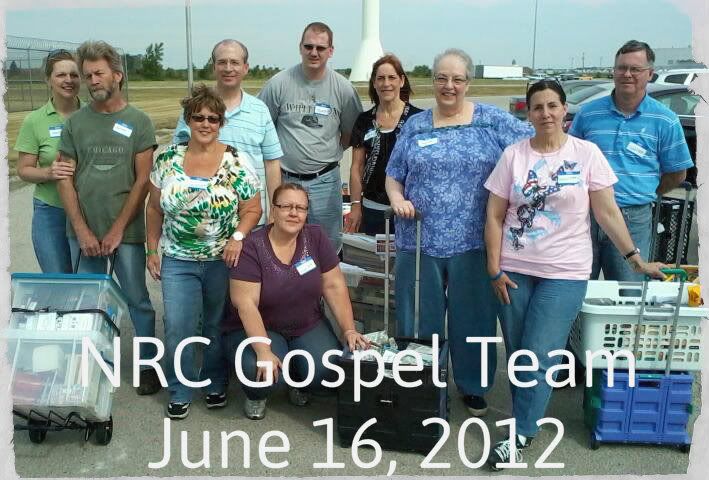 (NRC = Northern Reception & Classification. All men from northern Illinois, newly-sentenced to Illinois' Prisons are "locked down" here for a few weeks for classification prior to assignment to their "home prisons.")
These men are "starving" for something to do, anything to do! They have no TV, no radio, no books, no nothing...except what we take them. Being newly-sentenced, they are very open to the things of God! So, we take them Bibles, New Testaments, and Christian books & literature. We talk & pray with them.
YOU CAN JOIN THESE MISSION TRIPS! YOU DON'T HAVE TO PAY $100's OR $1,OOO's TO TAKE THE GOSPEL TO ANOTHER CULTURE!
YOU DON'T HAVE TO FLY TO FAR-AWAY LANDS TO "GO INTO ALL THE WORLD AND PREACH THE GOSPEL!"
YOU ARE NEEDED, RIGHT HERE AT HOME!
(must be 18 or older, no felony convictions)
I realize not everyone can go, so if you cannot,
Ask the Lord of the harvest, therefore,
to send out workers into His harvest field.
THE HARVEST IS PLENTIFUL, BUT THE WORKERS ARE FEW.
One last item:
SAVE THE DATE!
Dr. Gene Getz (Measure of a Man) will be the Keynote Speaker at our
ANNUAL BANQUET
(our only fund-raising event)
Saturday, November 3rd, 6:30 PM
at Village Bible Church, in Sugar Grove
For banquet reservations: Please email tombeatty@waysidecross.org
New Life Corrections Ministry
- a division of Wayside Cross Ministies
215 East New York Street

Aurora IL 60505

630-723-3406 (office) 331-465-4018 (cell)

33